With over 40 years of combined plumbing experience, we can handle any plumbing issue quickly, so you don't have to worry! Contact us today!
How often should my water heater be serviced or flushed?
We would reccomend your water heater be serviced every year, along with your heating system to keep things running smoothly.
Why do I keep running out of hot water?
If you are constantly running out of hot water, you could have an issue with one or more of the following:
1. Too much hot water demand from multiple sources at the same time.
2. Sediment build up inside of your water heater tank.
3. A broken dip tube.
4. You might have a water heater that is nearing the end of its lifespan.
5. A faulty water heater thermostat.
Do you guarantee your work?
Yes, we guarantee all of our work. If there is a problem with a part or service we offered, we'll come back out and make sure you are completely satisfied with our work.
Why is my toilet constantly running?
A constantly running toilet is usually caused by a flapper, the rubber or plastic valve on the bottom of your tank, that fails to seal. Open the toilet tank and adjust the float arm to see if the water stops an inch below the overflow pipe. If the water doesn't continue to fill, the flapper needs replaced.
Are you licensed and insured?
Yes, we are a licensed and insured plumbing company.
Why is my shower pressure low?
If your shower pressure is low when other faucets in the house are running, your household's water supply is insufficient due to an inadequate plumbing system. If the problem persists when all other faucets are off, it's likely due to pipe or patch leaks.
Why is my faucet leaking?
Leaky faucets are usually caused by worn rubber washers, which give out over time due to valve seat friction. Replace the washers to fix your leak.
"We had a broken water pressure regulator. Our technician Andy visited us the next day. He is very professional yet friendly. He put down a cover to protect our carpet before he started the repair. Andy was very patient answering my questions. He replaced the regulator promptly and now our water pressure is under control. I would certainly recommend Frontier and Andy for your plumbing services. Thanks, Andy!"
"Stewart came out and was really fast and precise in pulling out my old water heater and installing a new one. We were able to talk and joke around while he was working which made everything seem like I had a friend working in my house! And the prices were very comparable along with great and friendly service. I'd highly recommend these guys."
"The team at Frontier was amazing. So responsive before the onsite, walking me through relighting a burner before even determining if they needed to come out for the call. They worked with my home warranty company patiently and followed up post-repairs. The onsite tech was fantastic as well, flexible with what was actually the issue and fixed everything in record time. I can't recommend this team enough. Thank you!"
"Had Frontier out to replace my leaking water heater. They did an excellent job! Kept their work clean, were reasonably priced and got me in last minute before a long weekend!"
"AWESOME COMPANY. Thank you!!! I was referred by my home warranty company after the first company they sent me tried to schedule 11 days out when I have no hot water... after asking for a 2nd assignment I was put in touch with Frontier, they came out the next morning, diagnosed and convinced the warranty company to replace, and had a new one in and working flawlessly the next day... no hassle and much appreciated. Than you!"
"We had Frontier Plumbing and Heating out to service our hot water heater which had been releasing water occasionally. Our water pressure coming in from the city was way too high and was putting excess pressure on our tank. A previous plumber had insisted that we needed a new pressure regulator valve and a replacement expansion tank for a total of $700. Frontier was able to adjust the valve to bring the pressure to the acceptable level. It was a fraction of the cost for the service and he said we should be good to go for a few years at least. I love honest people!!!!!"
"This Company is Amazing! Stuart is wonderful to work with! I highly recommend this Company to fix any of your plumbing and heating needs!! They are very professional and punctual and get in and get the job done right. They do a Fabulous job I strongly recommend them."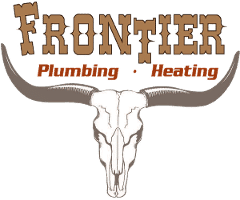 Keep Your Water Running & Temperatures Fixed!